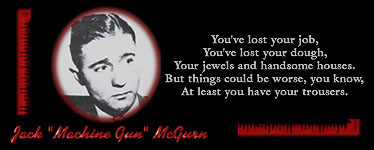 Jack "Machine Gun" McGurn (1905–February 15, 1936) was a key member of Al Capone's Chicago-based criminal organization known as the Chicago Outfit, and believed to be the principal assassin and planner of the 1929 St. Valentine's Day Massacre.
Jack was born Vincenzo Antonio Gibaldi in Licata, Sicily, the eldest son of Angelo and Guiseppa Gibaldi (née Verderame). A year later his family emigrated to the USA, arriving at Ellis Island on November 24, 1906. Vincenzo grew up in the Chicago slums where he later took up a career in boxing as a teenager and changed his name to "Battling" Jack McGurn because Irish boxers got the better bookings.
As a youth, McGurn did not run in gangster circles, however when his father was assassinated by members of The White Hand Gang after being mistaken for Willie "Two Knife" Altieri, McGurn, with Frankie Yale's consent, killed the three "hitmen" responsible and avenged his father's death. On hearing the news, Al Capone asked Yale if he could bring McGurn to Chicago and Yale agreed.
He was the assassin that fired the Tommy gun that killed Frankie Yale in 1928.
McGurn also owned a speakeasy, the infamous Green Mill, at 4802 North Broadway -- ironically, in the middle of the rival "Bugs" Moran gang's territory. In the mid-1920s, McGurn gained a 25 percent ownership of the jazz club. Manager Danny Cohen gave McGurn the stake to "persuade" comedian/singer Joe E. Lewis from moving his act south to the New Rendezvous Café, at Clark Street and Diversey Avenue. McGurn managed to convince Lewis by slitting his throat, cutting off a portion of his tongue and leaving him for dead. Miraculously, Lewis recovered, but because of the injuries to his mouth, his songs never regained their lush sound. The incident was later immortalized in the movie The Joker Is Wild (1957), with Frank Sinatra as Joe E. Lewis and a Hollywood soundstage as The Green Mill. While the club was located in the heart of Moran territory, it served Capone's booze and beer and Alphonse Capone himself was a frequent patron.
McGurn is best known for the infamous instance of violence on St. Valentine's Day, in 1929, where he planned the attempted killing of the North Side gang leader George "Bugs" Moran. The incident became known as the St. Valentine's Day Massacre. McGurn remained free from suspicion, largely due to his "blonde alibi" - the nickname of girlfriend Louise Rolfe - who claimed they spent the whole day together.
In April 1930, when Frank J. Loesch, chairman of the Chicago Crime Commission compiled his "Public Enemies" list of the top 28 people he saw as corrupting Chicago, McGurn's name was fourth on the list, which was published nationwide.
This notoriety caused him to be shunned by the Mob, because he now was among the first to be arrested for any crime worse than spitting on the sidewalk. So McGurn, who had great eye-hand coordination, attempted a career as a professional golfer. According to the July, 1996 and June, 2003 issues of Chicagoland Golf magazine, McGurn was a silent partner in Evergreen Golf Club, at 91st Street and Western Avenue, in Chicago. It was a known mob hangout where McGurn usually could be found playing, practicing, giving lessons or playing cards in the clubhouse.
On August 25, 1933, the Western Open golf championship began at Olympia Fields Country Club in the far south suburb of Olympia Fields, Illinois. A reasonably skilled golfer and flashy dresser, McGurn entered the competition under his birth name Vincent Gebhardi (the correct spelling, although he used "Vincent Gebardi", "Vincent Gibaldi" and "Vincenzo Demory" at times) and carded a mediocre 13-over-par 83 on course No. 4 (today's North Course). The next morning, seeing the name "Gebhardi" on the day's pairing sheet didn't fool an alert Chicago police detective, who put his own group together and headed out to the course. McGurn was accosted on the seventh green and told he was under arrest. With his usual smugness, McGurn politely asked to finish his round, as he felt he was playing much better golf than the day before. Amused, the plainclothesmen agreed and became part of his gallery. But the police presence began to unnerve McGurn and his game suddenly went sour. He came in with 16-over-par 86 for a 36-hole total of 169, 14 strokes above making the cut. As McGurn strolled off the 18th and final green to join his girlfriend, a burly detective snapped on the handcuffs and McGurn was carted off to jail.
Less than three years later, McGurn, by then impoverished and abandoned by his fellow gangsters, was assassinated on February 14, 1936, at the second-floor, Avenue Recreation Bowling Alley, at 805 N. Milwaukee Avenue (at Chicago Avenue). McGurn, wearing rented shoes, was shot and killed by two men with machine-guns. They left a note near his body that read:
"You've lost your job, You've lost your dough, Your jewels and handsome houses, But things could be worse, you know, You haven't lost your trousers."
It is not known for certain who McGurn's killers were, but research and speculation by criminologists suggest two equally likely theories: That George "Bugs" Moran, the very man Jack had tried to kill years before, gunned him down in revenge of the murder of his gang exactly seven years later, to the day, or that the South Side mob under Nitti murdered him, as McGurn (a heavy drinker and a braggart) had become a source of constant bad press and embarrassment to the mob, which, under Nitti, was striving for a much lower public profile than it had under Al Capone.
McGurn has been portrayed in several movies including The St. Valentine's Day Massacre (1967) by Clint Ritchie, Capone (1975) by Carmen Argenziano and The Verne Miller Story (1987) by Frank Costa. He was also played by K.L. Smith in the original The Untouchables television series and by Paul Stevens in the Playhouse 90 episode "Seven Against the Wall", depicting his role in the St. Valentine's Day Massacre.
McGurn was one of many organized crime figures to be featured on the documentary series American Justice. One theory is that McGurn was killed by The Outfit for failure of the murder of Joe E. Lewis. When Lewis no longer wished to play at the "Al Capone" Club, McGurn threatened to have Lewis "whacked". Lewis, however did not take this threat seriously. One night three men came to Lewis's apartment in attempts to kill him. They slashed his throat, cut deep gouges next to his ear and sliced off part of his tongue. The three men left him for dead. Fortunately Lewis was able to get help and survived. But bad news for McGurn who was "whacked" by the outfit.