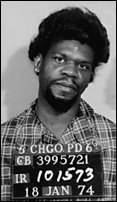 David Barksdale (1947 - 1974) also known as King David was the original leader of the Chicago-based street gang the Black Disciples.
Born Donise David Barksdale on May 25, 1947 in Sallis, Mississippi to parents Virginia and Charlie in a family of thirteen children, he moved with his family to Chicago in 1957. Within three years Barksdale had become a notorious gang leader. By 1966, Barksdale's gang absorbed several others and became known as the Black Disciple Nation. Tensions grew between the Black Disciples and other gangs such as the Black Stone Rangers.
In 1968 the leader of the Black Stone Rangers, Eugene Hairston, ordered a hit on King David. David was shot six times while exiting a bar one night, but survived and continued running the gang, while Hairston was sent to prison for trying to organize his murder.
David eventually grew sick of the bloodshed and proposed a merger with Larry Hoover, leader of the Gangster Disciples in 1969. Hoover accepted and the Black Gangster Disciple Nation was born.
On September 2, 1974 Barksdale passed away from kidney failure as a result of the 1968 attack. He was survived by his three children and wife Yvonne Barksdale, until her death three years later.
Over the course of his life Barksdale was arrested 25 times, but never convicted of any serious offense. On several occasions when he was arrested he used the alias "David Jones".
He is still revered by the Black Disciples and every year there is a birthday celebration in his honor. In 2008, there was a parade that was, in a controversial move, registered by the Chicago City Council for the Saturday of Memorial Day Weekend. The parade was criticized by the Fraternal Order of Police, and officers administering the event were forewarned about potential gang violence.